San Jose Criminal Attorney Edward N. Ajlouny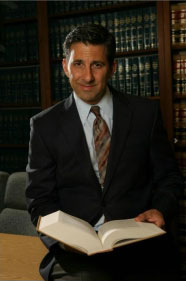 Education
1986-1990: U.S. Marine Corps
1990: B.A. Degree in Political Science (With Honors),
Univ. of California-Davis
1994: Law Degree, Univ. of Santa Clara School of Law
Biography
I grew up nearby Detroit, Michigan. In 1985, my family moved to San Jose and my father (also an attorney) worked as a Deputy District Attorney for Santa Clara County for 10 years. I joined the Marine Corps, went to college and law school in California and ended up working at the Santa Clara County District Attorney's office throughout law school and after becoming an attorney.
I am proud that the time spent in the Marine Corps has taught me many valuable lessons that I apply to my law practice to this day. The Corps taught me to always give maximum effort . . . no matter how difficult the odds. It taught me to never give up and to fight the good fight with honesty and integrity. I am proud that Judges, prosecutors, opposing counsel and past clients alike consider me an honest yet aggressive and able advocate for my clients.
The chief guiding principal I have maintained for the past 17 years' as a San Jose criminal defense lawyer in Northern California has been my commitment to justice and excellence on behalf of clients. Every day in California people are arrested for crimes that either they did not commit, or are over-charged with crimes by overzealous prosecutors when they actually have broken the law. That is not justice; far from it in fact.
Our criminal justice system, it has been said, operates on the ideal that it is far better to have 9 guilty people go free, than to wrongly convict 1 innocent person. People can disagree on this point, but the best deterrence to having this happen to you is to have able, aggressive and compassionate counsel by your side. Even "guilty" people deserve top-flight legal advice and counsel to make sure they are being treated fairly by the criminal justice system. Even though the vast majority of prosecutors and police officers are decent, well-meaning people, the system is such that there often exists a bias in favor of overly aggressive arrests and prosecutions. That's why citizens need a strong advocate by their side when they stumble and make a mistake or two.
My commitment to excellence in representing citizens' accused of crimes has served my clients well over the past 17 years. As a criminal defense attorney, my motivation has always been to obtain the "best" possible results for my clients. I live for the satisfaction I feel knowing that I did a good job and obtained a great result for my clients who trusted me to do my best and to help them.